A group of Year 7 and Year 8 students delivered a thrilling performance of Act 5 of William Shakespeare's Othello at Magna Science and Adventure Centre.
The performance was delivered in collaboration with other local schools as part of the Rotherham Shakespeare Festival, a hugely successful collaboration between Open Minds Theatre Company and local schools, which actively engages over 2,500 students each year in Shakespeare's work.
Whilst all students worked extremely hard and performed excellently throughout numerous rehearsals and the final performance, Amy Parry (pictured below) was selected as one of the leading performers of the night and was awarded with a scholarship to attend Open Minds Theatre Company's summer programme in recognition of her performance as Emilia.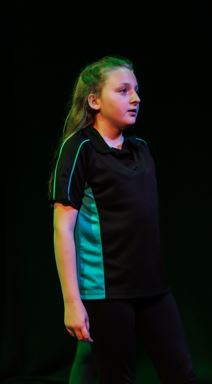 Well done to all students – you were fantastic!

Click here for a gallery of pictures from the evening.